Resume
Michael Rivero
rivero@hbentertain.com

Phone 808-780-3788

OBJECTIVE: Restarting my career following a hiatus into talk-radio.

SUMMARY: Over thirty years' experience in film/TV production. Maya, 3DS MAX, & Houdini

EXPERIENCE:

2007-Current: Talk Show Radio Host, networks include Genesis Communications Network, Liberty News Netwoirk, Togi Network, Republic Broadcasting Network.

2001-Current: Home Baked Entertainment - Honolulu : Founder, Producer. Music for TV commercials and film. Radio/TV Commercials. 3D Computer animation using 3D Studio Max. See www.hbentertain.com for details and services.

2011: "Off The Map" - On-set computer effects

2010: "Hawaii Five-0" - Visual Effects Supervisor (pilot episode)

2005-2006: University of Hawaii at Manoa - Instructor in computer animation and effects: Academy for Creative Media

2005-2009: "LOST" - VFX Producer / On-set supervisor.

2004: "The Day After Tomorrow" - The Orphanage, San Francisco: Visual Effects

2003: Kapiolani Community College - Honolulu : Maya Instructor

2001: Ohana Learning Foundation - Honolulu : Executive Director of Educational TV Production. Managed/coordinated three production teams creating educational DVDs. Designed & implemented cost bidding/tracking system. Planned & coordinated creation of original material plus re-purposing of existing content, post-production, budgeting, and personnel management.

1997-2001:Square USA - Honolulu : Senior Visual Effects artist on "Final Fantasy".

1997: Produced and directed, "Soul Of The Steel", a documentary on the history of railroading in the Pacific Northwest for the Pacific Northwest Railway Museum.

1996: Moved animation shop to Washington.

1995: Atomix - Consultant

1995: ReZn8 Productions - Rustoleum Commercial.

1995: Kleiser/Walczak Construction Company - Senior Animator "Stargate".

1992-1994: Sidley/Wright Motionworks - Senior FX Animator and on-set supervision. IRIS/Prisms & PIXAR. UNIX system wrangler. Credits include "Son of Pink Panther", "Coneheads", "We're Back: A Dinosaur's Story", & "Brainscan".

1991-1995: The Animation Attic The attic was an Amiga based animation studio. Cheapest pixels in town.

1991-1992: Contract Software Engineer. Did it for the bucks while opening the 'Animation Attic'.

1990-1991: Joan Collins and Associates - Project engineer on prototype video system for interactive consumer market.

1989-1990: Sidley/Wright Associates - Consultant. Improved throughput on automated video taping system.

1987-1989: John David Moore and Associates - Developed new Computer Animation facility on SUN 4 / TAAC-1. Facility was used to produce "Delta Dreamflight", world's first theatrical 70mm computer animation now on permanent display at Walt Disney World.

1985-1992: Intelligent Eye Productions - Owner: Computer systems in Film. Clients: NASA (Houston), Disney Studios, Universal Pictures, NBC, Inflight Productions (Omaha), International Media Associates (Amsterdam). Business dissolved due to divorce.

1983-1987 Robert Abel & Associates

1986: Director, Computer Animation Industrial Films.

1985-1986: Installed Computer Animation systems in Europe.

1985: Supervised technical staff of 5.

1983-1984: Technical Director / Software engineer.

1982-1983 Hanna Barbera Productions: Software engineer for computer animation system.

1979 ILM/Apogee Productions: Van Nuys Star Trek: The Motion Picture.

PRIOR BUT PERTINENT Graphics Programmer & Flight Team: Viking Missions to Mars, and Voyager. Instructor in film graphics at U.C.L.A. Member of Magic Castle. Speaker at SIGGRAPH & N.C.G.A. Four Clio Awards. Two Hugos. Three medals NY Film Festival. Emmy nomination. N.C.G.A."Best of Show".

REFERENCES: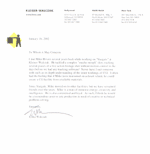 Click for Reference Letter from Erika Walczak (Gif File)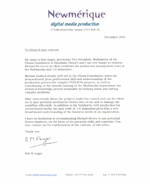 Click for Reference Letter from Bob Auger (Gif File)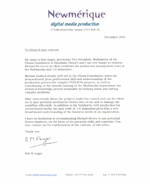 Click for Reference Letter from Bob Auger (PDF File)
June, 29th 2004
Re: Michael Rivero
To Whom It May Concern:
I am a feature film visual effects supervisor. My credits as such include
"Final Fantasy: The Spirits Within" and "The Day After Tomorrow."
Previously I have worked as a Lead Technical Director in feature films such
as "The Fifth Element" and "Xmen2" and the stereoscopic theme park ride
T2/3D for Universal. I also worked as a Technical director in James
Cameron's "Titanic."
I write to attest to Michael Rivero's extraordinary ability in the field of
digital visual effects. I believe that my lengthy experience in the film
industry, my extensive history with visual effects laden films and my
knowledge of Michael Rivero's work, enable me to accurately evaluate his
skills.
Michael Rivero's was a member of the vfx team for both The Spirits Within"
and "The Day After Tomorrow." feature films which I supervised. He has many
other prestigious projects to his credit and is widely regarded as a fine
and creative artist in the industry. His experience and creative input make
him an extremely valuable artist to help achieve the excellence required in
today's high quality demanding productions.
Sincerely,
Remo Balcells.
---
PERSONAL: Concise.
---
<! email to rivero@hbentertain.com>
Commercials - Special Effects/Animation - Music
HighDef/D-Cinema - Demos - Main Page - Company - Store - Links
Home Baked Entertainment • www.hbentertain.com
808.780.3788 (Honolulu) • 866.239.8738 ( Toll free ) • 213.291.8801 (Los Angeles)
Need Assistance? Have Questions? Want to Invest? Email Us info@hbentertain.com
This website requires Flash, JavaScripting, and either the RealPlayer or Quicktime to view the content.
This web site and its contents © 2000-2006 Home Baked Entertainment. All rights reserved.