LEADING A LIFE OF SIN(ema)
CLICK ON IMAGE FOR LARGER VERSION
Click for larger images.
---
Delta Dreamflight
Walt Disney World in Orlando created an attraction called "Delta Dreamflight", sort of "It's A Small World" for aviation enthusiasts (of which I am one).
Part of this entertaining romp through the history of flight involved two endless film loops, one showing a high speed trip down an imaginary runway of the future, and the other showing the view from a flight of an exo-atmospheric aircraft as it swoops down from space through a city of the future and back up to space again. The segment traveling through the city (complete with Epcot sphere) was subsequently used on a Disney TV commercial.
In order to accomodate the wide screen projection needs of the ride, the Delta Dreamflight films were done as theatrical format 70mm films, the first time computer animation had ever been done in theaterical 70mm, ever! Our staff of three (yes, only three) built the 70mm film recorder as part of the development for the project, which went from bare walls to film out the door in 14 months. Still frames of the sequence were provided to Disney in resolutions as high as 8K horizontal.



---
Click for full size picture(57K).
A photo of me with Steven Spielberg. We were both MUCH younger at the time.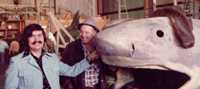 Another old photo of me with a famous plastic shark. Next to me is the shark's "Daddy", legendary Special Effects master Bob Mattey.
Michael Rivero rivero@hbentertain.com
Phone 808-780-3788
DEMO VIDEO - Commercials - Music - News - History/Resume
Visual Effects/Animation - Character Development
Medical Illustration/Industrial Films - Radio - Home - Company - Store
See our affiliate websites
Melophilia, Mike & Claire's Universe
Home Baked Entertainment • www.hbentertain.com
808.780.3788
Need Assistance? Have Questions? Want to Invest? Email us at
This website requires Flash, JavaScripting and Quicktime to view the content.
This web site and its contents © 2000-2014 Home Baked Entertainment. All rights reserved.