The Stargate Page
Probably one of the most fun films I have worked on recently was "Stargate", written and directed by Roland Emmerich (who went on to do "independence Day" and then "Godzilla").
The actual shop was Kleizer Walzcak Construction Company who are a great bunch of highly creative people. I miss them a lot!
The morphing
My particular contribution focused on several shots that used morphing to achieve their ends. Originally designed as articulated model motion control shots, the on-stage environment resulted in the elements being shot without the proper motion control registration and the sets were struck before the problem's full implications were understood.
Fortunatly, Elastic Reality had just ported their morphing tool to the SGI, and even more fortunate, Jeff Kleiser had a copy in the shop. In classic "shoot from the hip" effects work, we morphed the bad elements to get them to line up.
Special mention goes to the programmers at Elastic Reality who were able to add specially requested features such as anamorphic aspect lock and get updated versions of the software to us in a 24 hour turnaround!
The first shot this approach was used on was a fight scene, where the fast motion concealed a variety of learning errors!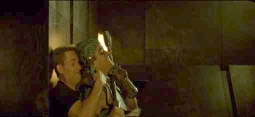 Click for full size picture.
Eventually, with the techniques smoothed out, the very first scene in the film where the gag was used was morphed. This was critical because this was the first time the audience saw this effect, and if it didn't work here, it was not going to work for the rest of the film.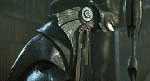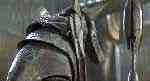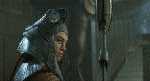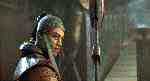 More morphing was used to do the opening up of Ra's ship, avoiding a model shot with motion control.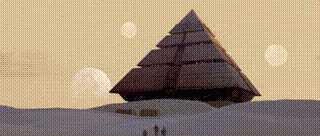 Ra's ship arrives! The moon images are from NASA's Voyager mission to Jupiter, on which I worked prior to getting into movies.
Misc other scenes.
No matter what you think of the film, few can deny that it had an epic grandeur to it.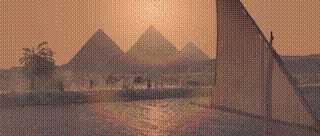 The opening scene for the film, establishing Egypt in the 1930s. The plate of the pyramids was shot for the production by a student at Cairo University, while the midground was filmed at the primary location site near Yuma, Arizona. The Kleizer/Walzcak team had to create the top portion of the palm tree seen at the left when the real palm tree trucked from Los Angeles to Yuma died on the set! The water in the foreground was shot in Long Beach harbor next to the Spruce Goose dome, which (no longer holding the airplane) housed the interior sets for Stargate.

Click for full size picture. Point of departure for the voyage to the far side of the galaxy.

Click for full size picture. Stepping through the gate.
Click for full size picture. The Temple of the Stargate.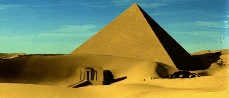 Click for full size picture. Nagada City, where the travelers stay.

Click for full size picture. Headed home.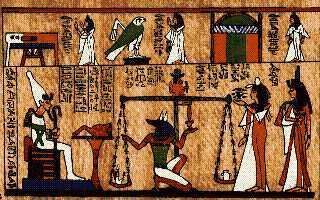 Leftover production notes!
Commercials - Special Effects/Animation - Music
HighDef/D-Cinema - Demos - Main Page - Company - Store - Links
Home Baked Entertainment • www.hbentertain.com
808.780.3788 (Honolulu) • 866.239.8738 ( Toll free ) • 213.291.8801 (Los Angeles)
Need Assistance? Have Questions? Want to Invest? Email Us info@hbentertain.com
This website requires Flash, JavaScripting, and either the RealPlayer or Quicktime to view the content.
This web site and its contents © 2000-2006 Home Baked Entertainment. All rights reserved.